Crack Sentencing Gets a Hearing on Capitol Hill While Advocates Mobilize
With the early release of some crack cocaine prisoners set to get underway next week and pressure mounting to do something about the disparity between sentences for crack and powder cocaine offenses, the House of Representatives this week turned its attention to the issue. A Tuesday hearing in the House Judiciary Committee's Subcommittee on Crime, Terrorism and Homeland Security saw spirited discussion of both retroactive sentence reductions for current crack prisoners and a number of bills that seek to address the disparities between crack and powder sentences.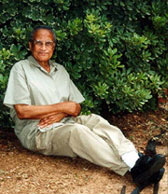 Alva Mae Groves died in prison at age 86 while serving a 24-year crack cocaine sentence after refusing to testify against her children. (photo courtesy november.org)
Also Tuesday, as House members debated the merits of the various proposals, drug reform, civil rights, and civil liberties groups led a day of lobbying on the Hill. Key for the activists was maintaining retroactivity so that sentence reductions for crack offenders will apply to those currently imprisoned and persuading Congress members to come together behind a sentencing reform bill that will reduce disparities.
The day of lobbying was kicked off with a morning press conference featuring Reps. Bobby Scott (D-VA), Bobby Rush (D-IL), Sheila Jackson-Lee (D-TX), and Chris Shays (R-CT), as well as former crack prisoners Dorothy Gaines and Michael Short, who was granted clemency in December by President Bush after serving more than 15 years. After that, it was on to the Hill.
"We were in meetings all day," said Bill Piper, national affairs director for the Drug Policy Alliance, which joined forces with state delegations and national organizations including the ACLU, the Sentencing Project, and Families Against Mandatory Minimums in the day of action on the Hill. "There were a lot of good interactions, and there is a lot of optimism about the prospects for change on the Hill. There is a strong sense that legislation could move in the next week or two," he said.
The question is which legislation? At least four bills -- H.R. 79, H.R. 360, H.R. 4545, and H.R. 5035 -- that would address the crack-powder cocaine sentencing disparity have been introduced in the House, and there are more in the Senate. They mandate changes ranging from completely equalizing crack and powder sentencing to reducing the discrepancy to a ratio of 20:1.
Under current sentencing laws, written during the crack hysteria of the mid-1980s, it takes 500 grams of powder cocaine to earn a five-year mandatory minimum prison sentence, but only 5 grams of crack. That 100:1 disparity has resulted in the imprisonment of thousands of people, mostly black (even though most crack users are white), for lengthy periods of time.
"It appears that most members of Congress, as well as the public, agree that the current disparity in crack and powder cocaine penalties is not justified and that it should be fixed," said subcommittee chair Rep. Scott as he kicked off Tuesday's hearing. "However, there is not yet a clear consensus on what that fix should be."
The basis for the sentencing disparity between crack and powder was based not on science or evidence, "but political bidding based on who could be the toughest on the crack epidemic that was believed to be sweeping America several years ago," Scott said. "There is certainly no sound basis for a five-year mandatory minimum sentence for the mere possession of five grams of crack, when you could get probation for possessing a ton of powder, because mandatory minimum sentences for powder only apply to distribution, not possession cases."
Scott then offered his bill, H.R. 5035, as the best fix. "It is a simple bill that goes the furthest in addressing the problems in the current cocaine sentencing laws," Scott said. "First, it eliminates the legal distinction between crack and powder cocaine, treating them as the same drug, which they are. The bill also eliminates all mandatory minimum sentences for cocaine offenses. And lastly, it authorizes funding for state and federal drug courts, which have both proven to be effective in preventing recidivism and saving money, when compared to longer periods of incarceration."
Rep. Charles Rangel (D-NY), one of the architects of tough crack sentencing laws in the 1980s, was singing a different tune Tuesday -- as he has for some years now. "There's no question in my mind that those people who thought that people involved with possession of crack should be sentenced at higher thought that it would in some way serve the community better," he said. "Clearly, that is not the case, and we find that to take the discretion in determining who goes to jail and who doesn't go to jail is showing lack of confidence in our judges."
Rep. Jackson-Lee, whose own bill, H.R. 4545, also addresses the crack-powder sentencing disparity, said it was time to "finally eliminate the unjust and unequal" disparities and "right the wrongs" created by the harsh anti-drug laws of the 1980s. "For the last 21 years," said Jackson-Lee, "we have allowed people who have committed similar crimes to serve drastically different sentences for what we now know are discredited and unsubstantiated differences."
It wasn't entirely an anti-disparity, pro-reform love fest in the committee, though. Ranking minority member Rep. Louie Gohmert (R-TX) said that while he supported efforts to redress the crack-powder sentencing disparity, he was worried that the Sentencing Commission's decision to make changes in the sentencing guidelines retroactive would lead to the release of violent criminals. "As a former judge and chief justice, I am vigilantly reluctant to legislatively overturn the past judgment of judges or juries, who were in the best position to consider the offense and the offender," he said.
He was echoed by a Justice Department representative. "Any reforms should come from the Congress, not the US Sentencing Commission; and second, any reforms, except in very limited circumstances, should apply only prospectively, not retroactively," testified Gretchen Schappert, US Attorney for the Western District of North Carolina, laying out the Justice Department position. "We continue to believe that a variety of factors fully justify higher penalties for crack offenses. It has been said, and certainly it has been my experience, that whereas powder cocaine destroys an individual, crack cocaine destroys a community." DOJ chief Michael Mukasey has been trying to stymie retroactive releases as well, and the DOJ home page currently devotes its top link to a speech he gave to the Fraternal Order of Police on the topic.
But the committee also heard from Michael Short, a Baltimore man who served nearly 16 years in prison for selling two ounces of crack before President Bush granted him clemency last year. "I know what I did was wrong," Short told the committee. "I sold illegal drugs, and I deserved to be punished. But what I did and who I was did not justify the sentence I received. And while today I am telling my story, it is also the story of many men that I know in prison, nonviolent offenders serving 10, 20 or 30 years for crack cocaine offenses. I did not need 20 years to convince me of the error in my ways, to punish me or to set me on a right path. My sentence was altogether too long. It was too long because of the way the law treats crack cocaine. Twenty years is the kind of sentence that drug kingpins should get -- big-time drug dealers. But I was not a drug kingpin. I was sentenced like one, because the drug I was convicted for was crack cocaine."
Short also took issue with the characterization by the Justice Department and some committee members of crack offenders as dangerous criminals. "I have heard some of the comments some people in positions of power have made about crack cocaine prisoners -- that we are violent gang members and that this is why our sentences have to be so much longer. I am not that person, and most of the people that I leave behind in prison aren't either," he said. "Although I made a terrible mistake, there was no violence in my crime. I was not a gang member. I was sentenced for such a long time because of a stereotype."
Now, with hearings having been held in both chambers of the Congress -- the Senate held one two weeks ago -- it is time to get those bills moving. And that is what is happening behind the scenes on the Hill, said Piper.
"Senators Sessions, Biden, and Hatch are sitting down and trying to work out a compromise," he said. "They're trying to come up with something they can all agree on that will also pass on the floor. My sense is that it will not be the complete elimination of the sentencing disparity, but somewhere in between Hatch's 20:1 ratio and Biden's 1:1. It will likely end up being 5:1 or 10:1," Piper predicted.
Reducing the crack-powder sentencing disparity would be a "wonderful development," said Robert Weiner, former public affairs director for drug czar Gen. Barry McCaffrey. "These sentences are just crazy, they're part of the gross distortion of the criminal justice system. If you're going to do the crime, you should do the time, but it should be the same time for the same crime," he said.
But the Justice Department's strident effort to roll back retroactivity could throw a wrench in the works, Piper warned. "That is a complicating factor," he conceded. "We hope to keep that out of any compromise bill. Thousands of families are waiting for their loved ones to come home soon, and we don't want to disappoint them."
Now, after years of inaction, Congress may finally act. But it's not a done deal yet, and there is many an obstacle between here and the passage of a bill that would restore a measure of justice to crack cocaine sentences.